Fast Deployment
Many times we get remarks like 'we need an MES asap', or, 'I don't have a large team to support the installation'. Great! Checkout the real time browser based Manufacturing Execution System EZ-MES, which can be made ready and available within a day. Making it possible that you can run it in production within 24 hours.
EZ-MES versus custom build MES
Custom build Manufacturing Execution Systems usually follow a classic software development path containing steps to set up the requirements, making functional and user interface designs, next developing and testing the software and finally deploying it to the work floor.
EZ-MES is fundamentally different. It is a so-called application ready platform, meaning that it already contains the features and functions that are typically used in different types of Manufacturing Execution Systems such as managing work orders, tracking and tracing, inventory management, barcode reading, resource management, reporting, documentation and more. The idea behind EZ-MES is that it should be flexible for many customers, and has been build as such.
When you start with EZ-MES, all these features and functions are available to you and only need to be configured to meet your specific situation and needs. This configuration is done by using the User Interface of EZ-MES to create a "blue print" of your manufacturing processes into EZ-MES. After you have finished configuring, you can immediately deploy EZ-MES in your organization, simply by sharing it's URL and giving users access that matches their role.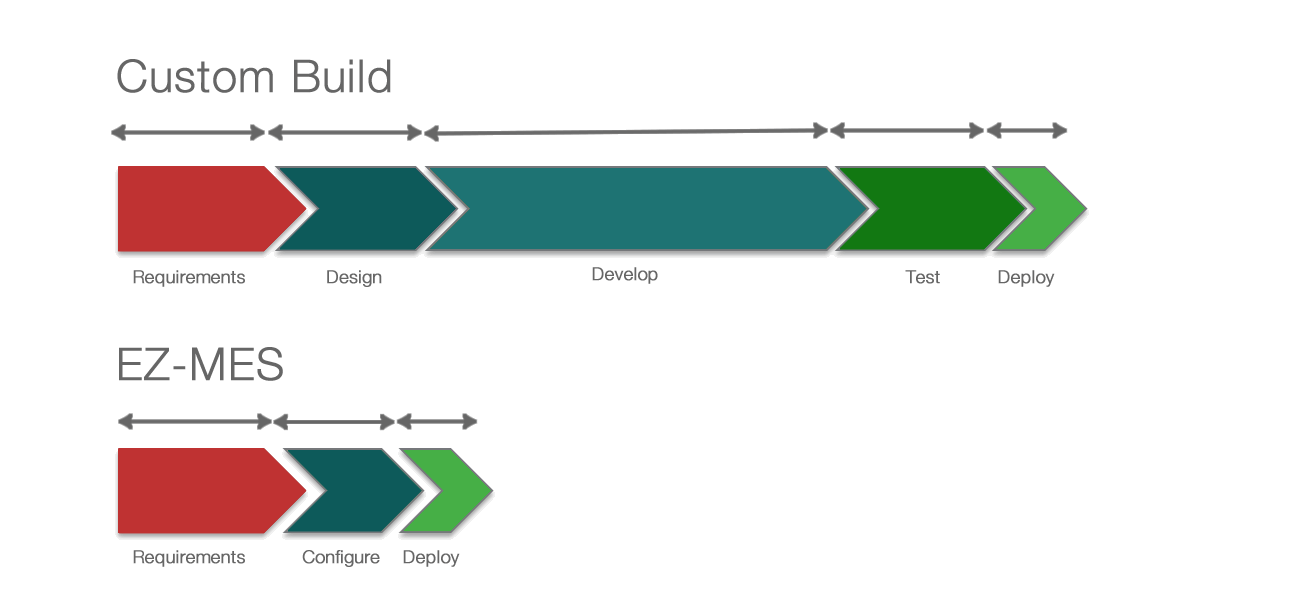 Faster managing changes
Manufacturing processes are not static but change over time for various of reasons. For example, because of company expansion, adding new product lines, changes in products and materials, process optimizations and cost reductions. As in EZ-MES, all your manufacturing processes are configured instead of hard coded in software, changes are realized by changing the currently configured "blue prints". Compared to Custom build MES, you don't need a team of developers anymore. Changes can first be configured in a sandbox version of your live version. Once approved, these changes can be copied to your live version and the deployment of these changes will occur in real time within your organization. As EZ-MES is a browser based Web Application, there is no need for local setup or updates. Users will immediately see the changes in their Browser, no matter if these are minor changes such a minimally updated work instruction for a production step or major changes such as the addition of a complete new production line. We have designed EZ-MES to make it less complicated to meet deadlines and stay within budget from day one.
Transparent cost effectiveness
With custom build MES, often there are hidden current and future costs. EZ-MES comes with a clear cost structure from day one. We work with a fixed licence fee that is not based on the number of users. You don't need to keep track of how many employees in your organization are using EZ-MES. Operating systems, Browsers and Devices change over time: we follow the latest developments in the markets regarding technology and when necessary, we update current functions, create new functions, and test and release these for the latest version of the new OS that is released. Making sure that you always have access to the latest releases. We can spread such development costs and upgrades over a larger amount of customers.
Great support team
We have different types of customers for EZ-MES. Some of our customers do almost everything themselves. They use the online help and manuals of EZ-MES and are able to do all the process configuration in EZ-MES by themselves. We also have customers who ask us to actively help them with setting up the requirements and do the configuration tasks in EZ-MES. We also have customers who are more in between. They ask us to first train there own staff members thoroughly and next they do the configuration tasks by themselves. In all cases, we have a great support team in place to help you when ever needed. The team at EazyWorks has genuine hands on experience in managing production at small and mid-size companies.