Why use EZ-MES?
The central core of the EZ-MES Manufacturing Execution Software has a very flexible model for manufacturing operations. This enables you to model virtually any kind of manufacturing process. Making it possible for you to effectively control and track your production processes and to comply to industry quality standards.
Be able to control, track and analyze your manufacturing processes
EZ-MES can track individual parts, lots, and batches. Beside tracking your production it includes:
BOM (Billing of Materials) Management
Configuration Management
Document Control
Extensive Data Acquisition
Inventory Control
Product Genealogy
Purchase Orders
Scheduling production through Work Orders
Statistical Analysis and SPC
Learn more about the EZ-MES features for Production Tracking.
Be able to interconnect with other tools and platforms
Extensibility is a software engineering and systems design principle where a software package takes future growth into consideration. Although the Manufacturing Execution System EZ-MES comes with a very extensive range of functions and feature, it also supports the seamless adding of specialized software extensions.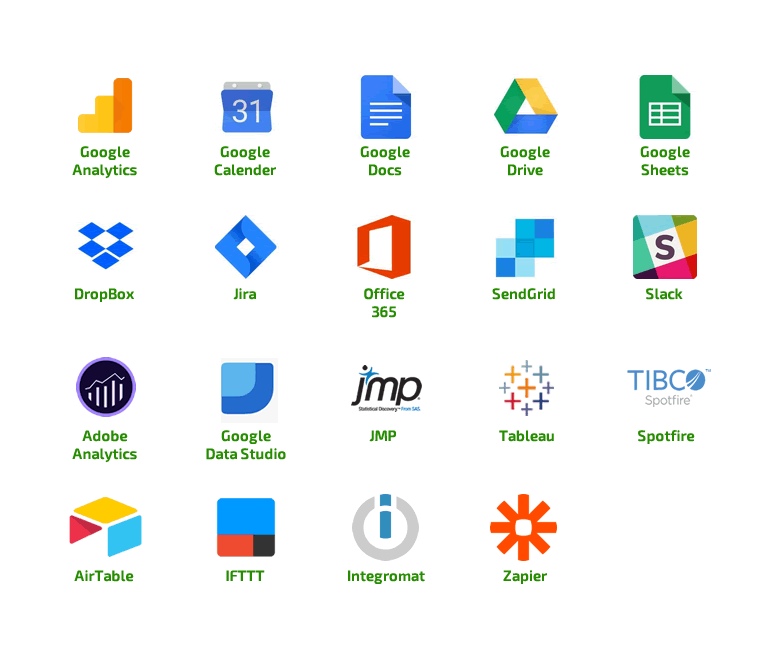 EZ-MES connector extensions can be used to connect this Manufacturing Execution System (MES) to:
- Google Apps such as Google Calender, Docs, Drive and Sheets.
- Business Apps such as DropBox, Jira, Office 365, SendGrid and Slack.
- Analytics and Reporting Apps such as Adobe Analytics, Google Analytics, Google Data Studio, JMP, Tableau and Spotfire.
- Data and Workflow Automation Apps such as AirTable, IFTTT, Integromat and Zapier.
The use of extensions turns EZ-MES into an open and flexible Manufacturing Execution System (MES) enabling future growth beyond the range of existing functions and features.
Be able to answer questions fast and efficiently
The EazyWorks team has an extensive background in high-tech manufacturing and knows that you want to have real time access to the status of your production in a simple and efficient way. Even if the production process can be complicated, many different products, large or small volume, the questions remain the same:
Where is my stuff?
How much stuff do we have?
What happened to my stuff?
You can get the answers on your questions with just a couple of mouse-clicks. By getting these answers fast and efficiently based on real time data, will give you a tool to take the right decisions. What is the cost of a decision based on inaccurate or old data? The system will enable you to take the decisions that are needed to improve the bottom line. Decisions that:
Optimize your resource utilization
Increase your throughput
Minimize your downtime and production delays
Decrease your cost over-runs
Reduce product variations and defects
Increase the satisfaction of your customers
Learn how our EZ-MES Production Tracking system can help answering these questions.
Be able to keep the total cost of ownership low
This is a combination of a couple of factors:
Simple to use for operators, efficient data entry and no training required
Simple to configure without loosing flexibility
Simple to install and to maintain, which results in low IT overhead
Unlimited number of users
Price includes all modules
And a competitive and transparent price structure
Be able to quickly scale up
If you decide to let us do the hosting, you will have a solution that is very simple to scale with your needs. We do the hosting using Amazon Web Services and are able to launch any type of server, from small to huge, within hours.
By being web-based the system does not require any special hardware or third party software licenses on your clients. It takes care of your backups automatically. It does not need any installation on client PC, it is accessible everywhere. Updates and Upgrades can be done automatically without any action from your side.
We have an extensive set of Help Pages, and can give you support by mail, phone or a visit.
All you need are PC's, Tablets or other devices with a browser that are connected to the Internet. No plug-ins, special fonts or Java downloads are required on your browser, as long as JavaScript is enabled it will run fine on any browser.
Be able to use on the workfloor without extensive training
It will improve the job satisfaction of your employees if they have a system which is easy to use to enter data. A system that will show them what to do with just a couple of mouse clicks. A system that is easy to learn, and simple to start, and simple to access. We are convinced that this will give you a substantial time saving, giving you more time to do the real work, taking care that the bottom line improves.
Be able to be Paper Less
Manufacturers can no longer afford to have their plant floor be a black hole for information, by running on paper-based systems.
Why is change imperative?
There are a number of reasons, some of which are likely to impact every manufacturing company:
High more custom product mix is becoming a fact of life. This results in a complex mix of operations and an explosion of information.
Time to market must shrink, you should be able to implement new products fast and handle engineering changes effectively.
Government regulations are increasing, requiring manufacturers to keep more detailed records and genealogy for every product.