MES and ERP
An often debated question between MES (Manufacturing Execution System) and ERP (Enterprise Resource Management) used to be whether to purchase a MES or an ERP system. Nowadays there is a better understanding of MES and ERP and each systems specific role. ERP systems have there roots in material requirement planning (MRP) and focus on helping managing all relevant enterprise resources. MES started as a class of systems specifically developed for managing, tracking, controlling, documenting and improving work-in-process on a factory or shop floor in real-time. Gradually functions were added to MES to also plan and manage stock inventory and resources such as equipment and staff. At the same time, ERP systems evolved and started to also offer functions for steering and tracking manufacturing processes.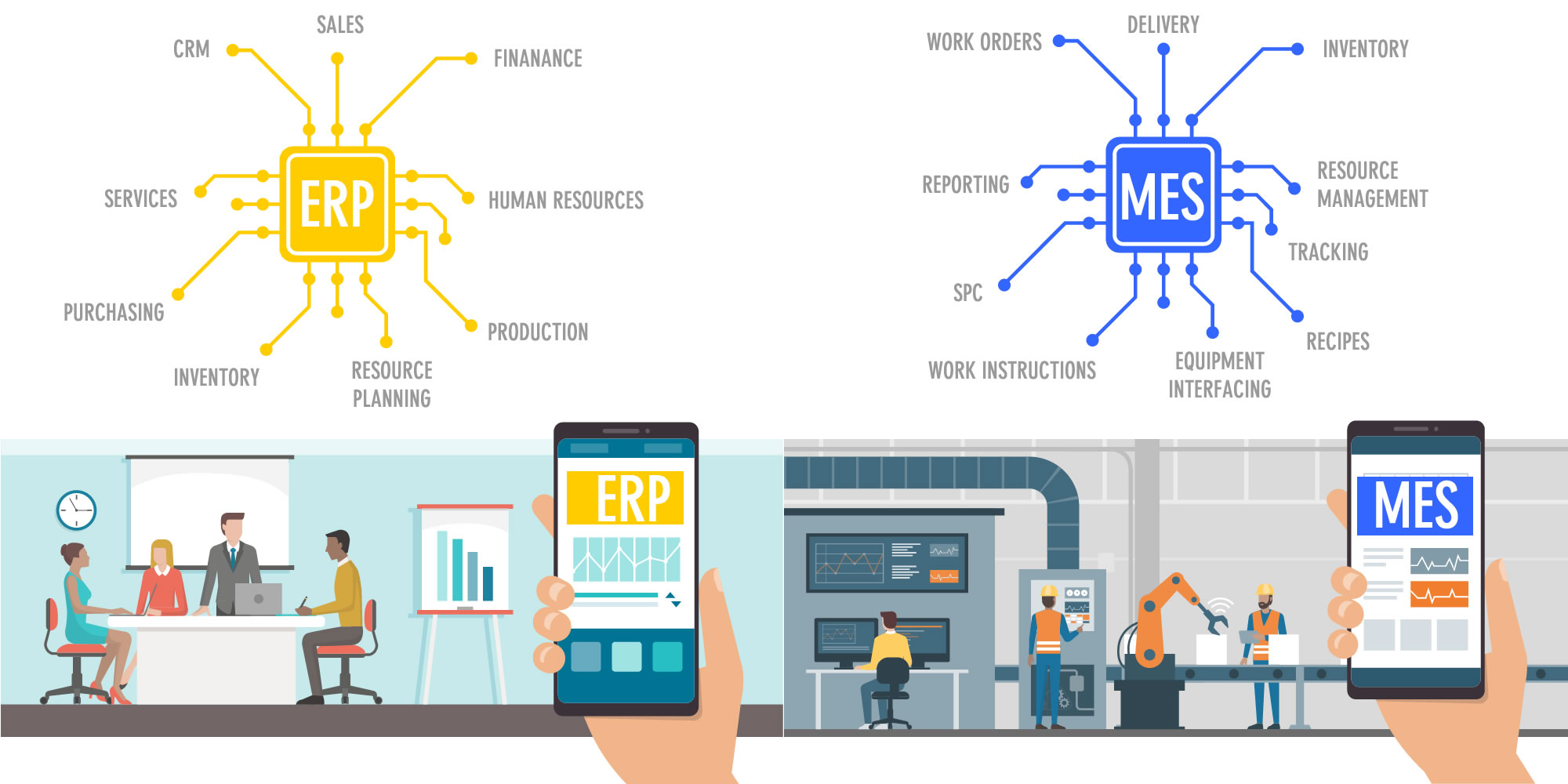 Symbiotic relationship between MES and ERP
Both ERP systems that have been extended with MES functionality as well as MES systems that have integrated some of ERP functionality will in all cases be a kind of compromise. Those who work in production with MES have different needs from those who work with ERP at a business level and visa versa. While in some cases choosing either an ERP or a MES may be a great solution, it becomes increasingly easier to use the best of both worlds. Main reason, modern MES and ERP are much more open and interconnectable than they used to be, offering open API's and Webhooks. An open API is a powerful software solution to connect two software systems with each other and to request, exchange and send data in real-time. Webhooks allow one system to actively notify another system that a task or process had been completed and that new data is available. The other system will take this data and trigger its internal processes and tasks to further process the data.

By doing so, the role of ERP is to initiate, process and complete transactions at a business level while MES is used to operate in realtime on the production floor to steer and measure production processes and equipment. The ERP system can be used to store and report rolled-up summary-type production data. The MES contains data collected in realtime at much more granular level which is used to generate detailed production reports.  For example for Statistical Production Control (SPC) and for micro allocation or re-allocation of equipment. Also the MES will allow tracking at a much more detailed level, which may be obligatory for production processes that have to comply to regulatory rules and quality standards. Using ERP and MES in such a way results in a more clear and symbiotic relationship between MES and ERP.
EZ-MES more affordable compared to ERP extensions
EZ-MES is a full scale configurable real-time MES solution allowing a wide range of operations on the production floor and enabling interfacing with equipment and SCADA systems. In general, the EZ-MES solution is much more comprehensive compared to MES extensions available for existing ERP systems. Such MES extensions often require additional customization to match the production floor processes. In most cases, an EZ-MES solution will be more affordable than purchasing and customizing MES extensions for an existing ERP system. EZ-MES is a so-called application ready platform, meaning that it already contains the features and functions that are typically used in different types of Manufacturing Execution Systems such as managing work orders, tracking and tracing, equipment interfacing, recipes, work instructions, barcode printing and reading, resource management, reporting, documentation and more. The idea behind EZ-MES is that it should be flexible in both implementation as use for many customers, and has been build as such.
EZ-MES open API and Webhooks
For integration with other systems such as ERP and equipment, EZ-MES has an open API build-in. API stands for Application Programming Interface (API) and allows EZ-MES to connect to other software and devices and visa versa. In addition, EZ-MES also supports Webhooks, for example when a production batch is ready and its aggregated production data needs to be send to the ERP system.
Most of the core operations that can be performed in EZ-MES manually via its User Interface, can also be executed in an automated manner via its open API. Effective use of the EZ-MES API allows a high level of automation. Resulting in immediate lower manual error rates and higher response times. And therefore in lower production costs and improving quality at the same time.